Chemical Peels Davis
Before & After Photos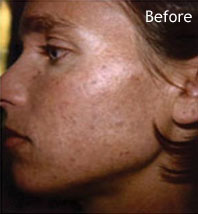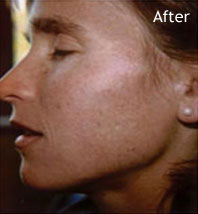 Individual results may vary
Chemical Peels Photo Gallery
"I love chemical peels! There are so many benefits to incorporating chemical peels into your regular skincare regimen that I highly recommend to all of my adult patients that they consider starting chemical peels early. Chemical peels are one of the most effective, economical, and safest ways to improve overall skin tone and texture. Usually performed in a series of at least 3, roughly 3-4 weeks apart, chemical peels have been shown to significantly improve acne scars, pigmentary problems like superficial melasma and sun damage. Procedures are well tolerated, take approximately 15 minutes, and most patients return to work immediately. Peeling begins around day 3, and is completed by approximately day 7………Dr. Noll."
Davis Dermatology offers several chemical peels to meet each patient's unique skin care needs and to rejuvenate any skin type. During your consultation, Dr. Noll will provide a customized treatment plan to determine which chemical peel would be best for you.
What is a Chemical Peel?
A chemical peel is a skin resurfacing treatment in which a chemical solution is used to remove the top layers of skin. Removing these dead and damaged cells reveals the smooth new skin cells below. Chemical peels can effectively treat issues like sun damage and acne scars.
Which Peel Is Right for You?
Our practice offers a wide range of chemical peels for all skin types. Dr. Noll will consult with you to help you determine which peel would best suit you.
We offer superficial and medium depth chemical peels. The right peel for you will depend on the type of results you wish to achieve, your skin's degree of sensitivity, and the amount of time you have for downtime. The greater the depth of the peel, the longer recovery time it requires. At the same time, chemical peel treatments at greater depths also provide more extensive results.
What are Superficial Chemical Peels?
Superficial chemical peels, or light peels, are great for hyper pigmentation, oversized pores, uneven skin tone, acne, dry skin, and fine lines. These peels specifically remove only the epidermal layer of the skin and are quite gentle, making them an excellent choice for sensitive skin.
Generally, they include a unique blend of acids and other cosmeceutical ingredients which may help you achieve dramatic improvement in texture and tone, lessening of superficial lines and a healthier, more youthful look and feel with minimal "down time". They must be repeated every 3-4 weeks for best results.
At Davis Dermatology, we offer the following superficial chemical peels:
Glycolic Acid
Illuminize Peel (SkinMedica)
Vitalize Peel (Skin Medical)
Rejuvenize (Skin Medical)
Salicylic Acid
Medium Depth Chemical Peel
At Davis Dermatology, we perform the trichloracetic acid (TCA) medium depth chemical peel. The TCA peel removes the epidermal layer of the skin and the upper part of the skin's dermal layer (the middle layer).
A medium chemical peel can treat deeper wrinkles, acne scars and uneven skin tone. If you wish to maintain the results received from your medium chemical peel, you can opt for maintenance treatments.
What Is the Cost of a Chemical Peel?
Our chemical peels start at $99., Prices do vary based on the individual needs of the patient. Ask us about our package pricing and check out our monthly specials for any potential deals!
Schedule a Peel Consultation to Find Out More
If you would like to rejuvenate your skin with a chemical peel, click the contact button or give us a call to schedule a consultation at 530-756-5758.